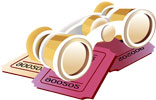 Wagner's Gotterdammerung ****
Royal Opera House, London WC2
Sunday Express 23 April 2006
Monteverdi's Orfeo ****
English National Opera, Coliseum, London WC2
Who would have thought  Wagner's Gotterdammerung would seem so prophetic today? As the three Norns lament that the god Wotan has depleted natural resources by felling the World Ash Tree as firewood for Valhalla, recent forecasts of the global energy crisis come to mind.
Covent Garden's production of the last opera in the mammoth Ring Cycle takes in all the cosmic allusions – whirling black holes in space and a jumble of equations scribbled on a giant blackboard as if by a manic physicist.   Director Keith Warner's staging is eclectic, ranging from the conspicuous consumption of Dynasty-style mirrored walls and white stretch sofas to the war-torn banks of the Rhine, reminiscent of the Gulf War.  Some of the design concepts are just silly, such as Alberich floating above the stage in a hospital bed cum dinghy, for no apparent reason.  Better at that point to close your eyes and listen to the music, which is sublime.
Music director Antonio Pappano, conducting his first Ring Cycle, is sensitive to Wagner's sweeping moods, from the thunderous to the lyrical.  He deserved the cheers at the end of the marathon, as did the singers, notably Australian soprano Lisa Gasteen as a Brunnhilde of volcanic emotion.   A bouncing Valkyrie of last year, she has developed a tragic resonance and a voice that rides the orchestra, filling the auditorium.
John Tomlinson as Hagen, the evil genius who brings death to Siegfried,  dominates the stage with his brooding presence and dark bass.  Mihoko Fujimura makes a promising debut as Brunnhilde's sister, Waltraute. The one vocal disappointment was John Treleaven's over-strained Siegfried.
After Valhalla had gone up in flames and the Rhine Maidens stripped to their G-strings, there was the usual curtain call booing for the hapless design team.  Note for the diary: BBC Radio 3 will broadcast Gotterdammerung on Saturday 13 May.
There's a happier design concept at ENO where Chinese director Chen Shi-Zheng has brought in a team of graceful Javanese dancers, transporting the Arcadia of Greek myth to Bali.   Monteverdi's Orfeo, the first opera still produced today, is as fresh now as in 1607 when it amazed the court of Mantua.
There's much to delight the eyes in this simple yet decorative production, from the dancers bearing pyramids of fruit for the wedding feast to the gorgeously robed, sepulchral King and Queen of Hades in their glass paladins.
The ENO orchestra, under conductor Laurence Cummings, joins with musicians of the Orchestra of the Age of Enlightenment to produce a richer version of the early music sound.  Tenor John Mark Ainsley combines vocal excellence with emotional intensity as the anguished Orfeo descends to Hell to reclaim his wife, Eurydice.  Only the ending, with Orfeo being winched up by Apollo as if to a rescue helicopter, is less than perfect.