Evening Standard 10 August 2005
A British couple renovated a wreck in the Languedoc to set up their air-school dream, La Maison Verte.  Now they are moving next door.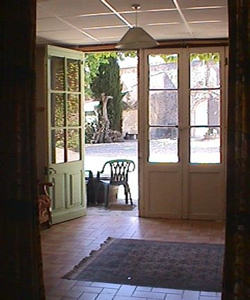 Under the weeping acacia tree several aspiring watercolour artists are capturing the light through the leaves with varying degrees of success.   From the studio nearby comes the sound of chipping at blocks of stone.  Birds sing overhead and in the depths of the Virginia creeper that covers the house there's a humming of bees.  Another art course has begun at La Maison Verte in the Languedoc.
This will be the final year, because sculptor Teddy Hutton and his wife Nicola Russell have put their family house cum business on the market.   It's not a decision made lightly, for La Maison Verte is unique.  Built as a wine producer's house in 1830, it is unusual in being much larger than most village houses, and in having a marvellously peaceful, secluded garden of nearly 2.5 acres.   From the bedroom windows you can see, beyond the great chestnut and lime trees in the courtyard, a mass of vanilla-scented oleanders, gravel paths, lawns bordered with privet hedges, swathes of lavender, and in the distance the rolling hills of the Herault.   It's truly an enchanted place.
When they bought the house in 1994, it had dodgy plumbing, eccentric wiring, only two lavatories, an enormous attic and dovecot on the top floor.  Over the years they converted the attic, put in eight bathrooms for the 16 bedrooms, redecorated most of the rooms and installed two kitchens.  The outbuildings were turned into a conference hall and four independent apartments.
So why uproot themselves from this paradise, leaving the annual habituees of the painting and pottering courses bereft?   Nicola explained, as we sat over a glass of the local rose in the shade of a fig tree, "Teddy, who's 62, wants to spend his time sculpting rather than mending the loos.   And I have always worked on a seven or eight year cycle.  We began running courses here in 1997, when my daughter had finished school and we sold up in England to live here permanently. Now it's time for a change.  Ideally, it would suit someone in their late 30s with the experience of running a business and loads of energy.  Or who can afford other people to run it, rather than being their own gardener, swimming pool attendant, plumber, electrician, cleaner and administrator."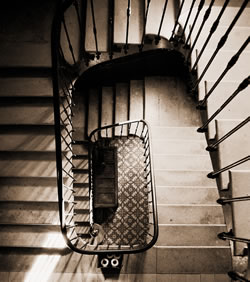 La Maison Verte has profited from the French system of "micro-entreprise" designed to encourage small businesses.  The Huttons operate the business for five to six months a year, generating approximately 76,000 euros a year after tax.   During those months they vacate the house and live in what they call "the summer palace", a converted wine barn at the end of the garden near the hens.  The big house is then let to course organizers of various subjects, ranging from yoga to art to creative writing.
Their first course, back in 1997, was for pop songs, titled 'Singing from the Heart'.   Nicola, a former theatre pr, had intended to let the conference hall and adjoining gites to theatre companies, but she then realized there was a gap in the market for holiday arts and culture courses.  At the same time, the Languedoc began to open up as Ryanair moved in.  Suddenly there were cheap flights to Carcassone, Nimes, Perpignan and Montpellier, all within striking distance Roujan, the village where La Maison Verte is situated, ten kilometers from the historic market town of Pezenas.
The arrival of Ryanair led to a hike in property prices, and villages in this now accessible part of the Languedoc have attracted foreign buyers, mainly English and Dutch.  It's been highly profitable for local estate agents.  Anushka Paverman, who works with the estate agent Freddy Rueda, one of the leading estate agents in the area  for the past eight years, says that the greatest increase has been in the range up to 100,000 euros, which has leapt by 300% in the last five years.  Nowadays you can't find anything habitable under 100,000 euros, and even at that price, the house will be in poor condition with no outside space.
For up to 200,000 euros you may find a three bedroom village house with courtyard or terrace, an increase of 100% over five years.  A three to four bedroom villa with pool will cost between 250,000 to 350,000 euros.  The influx of foreigners and rising prices of property has the potential to cause problems as locals are squeezed out, which is why the government has renewed its building programme on the edge of villages of new homes for young people setting up.
"This area doesn't attract the big money that goes to Provence because it is unsophisticated," said Anushka.  "The region is still about wine and hasn't diversified, and it doesn't have the great estates that are around Uzes – most of the wine producers live in villages rather than houses in the country.  What makes La Maison Verte so rare is that it is in the heart of a village, yet is private.   It is also a running business with a properly declared income, and is set up to generate revenue."
Other income generating property on the Rueda website include a renovated five-bedroom winegrower's home near Pezenas with four independent gites for 555,000 euros; a four-bedroom villa with two independent apartments near Beziers for 550,000 euros; and a maison de maitre, 20 minutes from Beziers, referenced in guides as a bed and breakfast "maison d'hotes" for 790,000 euros.
The asking price for La Maison Verte is 900,000 euros, but it will be minus the "summer palace" which has its separate entrance at the end of the garden.  Teddy and Nicola can't bear to leave Roujan, so they are separating a third of the land from the main house with Teddy's Great Wall, built in local stone.
"We looked at Pezenas, then decided to stay in Roujan," said Nicola.  "We have everything we need here.   We have made a lot of good friends, and the village has bakers, butchers, cafes and restaurants.  Nearby there are mountains, the sea and the lake.  We ran the business because we enjoyed the quality of life it gave us, rather than making a fortune. Now we will have the time for Teddy to sculpt and garden, and for me to paint and enjoy being with our friends."
Freddy Rueda website: www.realestatelanguedoc.com