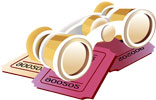 Sunday Express – 18 April 2010
Rufus Wainwright's Prima Donna ***
Sadler's Wells, London EC1
(Run ended. Tour to Luminato Festival, Toronto in June. www.luminato.com)
The backstage storms behind Rufus Wainwright's first opera sound rather more dramatic than the work itself.  Its Manchester premiere last year led to a rift with New York whiz-kid director Daniel Kramer, of which Wainwright said, "It ended up being a real battle backstage for the soul of this piece which I won eventually."
Having found a safe pair of hands in British director Tim Albery, Wainwright's mighty step forward from "operatic pop" to full-blown opera opened to a largely youthful audience in London last week, with most popular interval drink being beer straight from the bottle.
Wainwright has named the 19th century composer Verdi as his idol, and there's no doubt he's passionate about opera, cramming in homages to Verdi, Massenet, Strauss, Poulenc and Puccini.  The score, played by the Royal Ballet Sinfonia under Robert Houssart, is a glorious rag bag of operatic history.
The staging is reminiscent of Sunset Boulevard, in designer Anthony McDonald's ornately mouldering façade.   Soprano Janis Kelly takes the title role of Regine Saint Laurent, a once celebrated diva, now a recluse living in a Paris apartment with a creepy manservant (baritone Jonathan Summers) and a perky maid (Rebecca Bottone).
Regine has agreed to make a comeback after six years of silence in the title role of Alienor d'Aquitaine, an opera written specially for her. When young journalist and devoted fan Andre Letourneur (Colin Ainsworth) arrives to interview her, she re-lives that moment in her life.
This is the dramatic high point of Wainwright's opera.  Left alone, the diva puts on the disc of her great triumph, and the walls of the shabby apartment melt away to the remembered stage setting of moonlight and trees.  The figure of King Henry (Colin Ainsworth) emerges from the shadows to sing the love duet "In this magnificent garden of flowers", itself a reminder of Wagner's Der Meistersinger.
Janis Kelly as the diva in crisis is never less than excellent, whether in edgy hysteria as she tears the petals off the roses or when dreamily re-living her sublime moment.  Rebecca Bottone, one of our finest young sopranos, is impressive in her range of stratospheric notes.
But the opera lacks any dramatic drive, being essentially about the internal struggle of one person.   The libretto, co-written with Bernadette Colomine, is in French, which disguises its banality.  The final scene of the journalist ditching the diva for a date with his fiancée is unbelievable.  That aside, this lesson in the do's and don'ts of music theatre may lead to better things if Wainwright can find his own inimitable voice, rather than borrowing those of his operatic heroes.