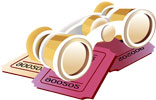 Sunday Express – 4 April 2010
Rameau's Platee ****
Les Talens Lyriques, Opera National du Rhin, Strasbourg
(Season continues at Theatre des Champs-Elysees, Paris from 5 May, plus concert performance at Barbican Centre, London on 8 July)
The three operas chosen by conductor Christophe Rousset and the period instrument orchestra Les Talens Lyriques to tour Strasbourg, Paris and London have in common the popular baroque theme of the Greek gods' amorous follies, especially those of  insatiable alpha male Jupiter.
Baroque composers used Greek myths to as a coded way of satirising the excesses of contemporary society, so it makes sense to set the operas closer to our own times. The bright young opera director Mariame Clement, with designer Julia Hansen, has devised a scintillating update to Rameau's rarely performed Platee, the tale of a vain marsh nymphette who believes she is irresistible to all males.
The production, at the Opera National du Rhin in well-heeled Strasbourg, seat of the European Parliament and birthplace of foie gras, is set in 1950s bourgeois France during the post-war rise of consumerist aspirations.  Monsieur and Madame Jupiter have invited a gang of disorderly neighbours to a party. Juno presses canapés on her guests, while her husband sneaks off for a bit of adultery.   Hansen's set, evoking the ideal home in Jacques Tati's film Mon Oncle, constantly springs surprises as stairs appear and recede, bathrooms and bedrooms slide on and off.
In the tradition of the original performance at Versailles in 1745, the title role of the frog nymph is always sung by a man.  Chilean tenor Emiliano Gonzalez Toro, first seen in a giant aquarium, centrepiece of the Jupiters' lounge, wears a green frog-eyed skullcap and false boobs.  On escaping from the aquarium to pursue Jupiter, he disguises his amphibian features with blonde wig and pink frock.
Jupiter uses Platee's vanity in a scam to convince his formidable wife that her suspicions about his misbehaviour are unfounded.  When Juno catches her husband out, she finds that his supposed bride is only a frog, and has to agree her jealousy is unreasonable.
As Juno, Judith Van Wanrroij has a rich and commanding delivery, and Toro's high tenor, a pitch favoured by 18th century French composers in preference to the male soprano, has a pleasing lightness and strength.  Excellent work too from bass Francois Lis as an athletic Jupiter, and Cyril Auvity as an agile Mercury.   Les Talens Lyriques and Christophe Rousset reveal the ravishing delights of Rameau's score.
Worth remembering that Platee's first performance was given around the time that Louis XV met and fell in love with Madame de Pompadour, history's most famous mistress.  All the light-hearted, gilded joy of France's ancien regime is in the music, with no hint of the deluge to come.
The two other baroque operas are Cavalli's Venetian comedy La Calisto, in a new production by Macha Makeieff, opening at Paris's Theatre des Champs-Elysees from 5 May, and Handel's Semele in a revival of David McVicar's production from 30 June (http://www.theatrechampselysees.fr/), with Danielle de Niese taking the title role. A concert performance of Semele at London's Barbican Centre follows on 8 July (tickets: 020 7638 8891).