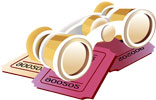 Puccini's Madama Butterfly ****
Royal Opera House, London WC2
Handel's Agrippina ****
English National Opera, Coliseum, London WC2
Sunday Express 18 February 2006
There is more than one candidate for the real Madam Butterfly, the geisha who committed suicide after being deserted by her western lover.   Whether the lover was an American naval officer or the Scottish founder of a Japanese brewery, as suggested by an advertisement for his beer in the programme, sexual tourism in the Far East was already big business at the end of the nineteenth century.
Puccini's opera captures the cynicism of the US lieutenant, B.F. Pinkerton, who arranges with a "marriage" broker to set up a 15 year old girl in a house rented on a 999-year lease that can be terminated at any time.  This seedy stratagem has given rise to the wonderfully romantic music that sweeps you through the opera to the heart-rending scene when Pinkerton returns with his new American wife to claim his son by Butterfly.
Chinese soprano Liping Zhang takes the title role in the revival of Moshe Leiser and Patrice Caurier's original 2003 production.   From the tentative girl of the first act, she develops into the tragic heroine who believes her "husband" will come back to her, in the soaring aria "One Fine Day."  A powerful performance deservedly applauded.
Slovakian tenor Miroslav Dvorsky, stepping in at short notice to replace an indisposed Andrew Richards, developed, after an initial roughness of tone, into a finely sung Pinkerton, contrasting the initial selfishness with his eventual remorse.  Elena Cassian's beautifully sung Suzuki brought out the inner strength of the maid who watches the tragedy unfold.
David McVicar's production of Agrippina, updated from ancient Rome to the stiletto heels and padded shoulders of the 1980s, reveals a new dimension to Handel's comic opera about power politics in ancient Rome.
Mezzo-soprano Sarah Connolly takes the title role of Agrippina, historically notorious for her murderous intrigues as the mother of Nero.  A virago in black dress and lethal stilettos, eyes glinting with power and her preferred tipple of gin, this Agrippina has a touch of Hilary Clinton or Maggie Thatcher about her.
Christine Rice's Nero is a coke-sniffing punk, whose most passionate aria is delivered ecstatically in a cloud of white powder.  Lucy Crowe's Poppea is a Paris Hilton celebrity blonde surrounded by stylists and beauticians.  Occasionally the comic business upstages Handel's sublime music.  But, overall, a joyous evening, with virtuoso performances from the cast.