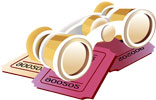 28 February 2010
Puccini's La Boheme ****
Opera Up Close, Cock Tavern Theatre, Kilburn NW6
Handel's Belshazzar ****
London Handel Festival
St George's Church, W1
The last place you would expect to find opera is the Cock Tavern, an un-renovated   boozer in Kilburn High Road.  The cavernous interior, two pool tables, and clientele of old codgers rooted at the bar may not bear comparison with Paris's Latin Quarter, but this is where Puccini's La Boheme is enjoying a runaway success.
In an upstairs theatre that seats only 40, an alternating cast of young singers enact the tragedy of student love and loss, updated to present day Kilburn with new translation by director Robin Norton-Taylor.  The set is a typical student pad with shabby sofa, where Rodolfo the writer taps away at a laptop.   Mimi, a migrant cleaner who sews floral brooches in the evening, knocks at the door when she runs out of change for the meter.
Audience and singers move downstairs to the bar for the Café Momus scene.  Annabel Mountford's sparky Musetta has a spat with her elderly admirer and shows her skill at pole-dancing, while a table of singers acts as chorus, supplemented unsteadily on the night I was there by one of the pub's regulars.
Back upstairs, no one could fail to be unmoved by the fourth act death scene.   Close up it certainly was, with Anthony Flaum's Rodolfo shedding tears over Rosalind Coad's dying Mimi.  The orchestra consists of conductor Andrew Charity at the piano. Opera in the raw, but Puccini's intentions come through loud and clear.
From pub to church for the 2010 London Handel Festival, running to 2 April.   The 18th century gem of St George's, Hanover Square is an appropriate centre for Festival events, being Handel's local church when he lived in Brook Street.  This year's festival opened with Handel's dramatic oratorio, Belshazzar, based on the Old Testament story of Belshazzar's feast, with singers, orchestra and chorus grouped in front of the altar.
Tenor Andrew Kennedy was an ebullient Belshazzar, cheerfully in his cups until the eerie moment when violin strings signal the writing on the wall that foretells the fall of Babylon. Counter tenor David Allsopp, singing from the pulpit, was an impressively stern Daniel.   Soprano Lynda Lee brought a touching pathos to the part of Queen Nitocris, trying vainly to control her unruly son.Excellent work, too, from chorus and orchestra under conductor Laurence Cummings.   A galvanising evening that brought the great oratorio into intense focus.   If other events in the Festival are anywhere near as good, we are in for a treat.