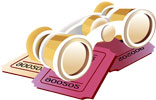 Sunday Express – 7 March 2010
Philip Glass's Satyagraha*****
English National Opera, The Coliseum, London WC2
Philip Glass's music provokes extreme reactions of love or hate.  Now that I've revisited his extraordinary anti-war opera inspired by the life of Mahatma Gandhi, I have been won over.  Perhaps the composer's famous repetitive technique exerted a hypnotic influence for, unlike the production's first time around in 2007, I left the Coliseum after three and a half hours on a high.
Glass doesn't make it easy by choosing Sanskrit for the libretto, adapted by Constance De Jong from the ancient Hindu scripture Bhagavad Gita.  Surprisingly, a preliminary reading of the programme notes plus the odd translated phrase projected against the curved set of corrugated iron is all that is needed to follow the events.
The opera, written in 1980, deals with Gandhi's early years in South Africa when he developed non-violent protest as a political tool, a method he called "Satyagraha," a Sanskrit word meaning "truth force".   We see him first as a young lawyer, discarding his western suit to dress in sadhu's robes and lead a march against a British Government proposal to fingerprint all Indians, men, women and children.
Improbable, the theatre company led by director Phelim McDermott and designer Julian Crouch, has devised an ingenious set, transforming sheets of newspaper into papier mache monsters, and wicker baskets into towering giants. The devices are brilliantly simple, such as the rows of wooden coat hangers that descend from the flies for the followers of Gandhi to hang their coats as a symbol of their rejection of British law.
Alan Oke's performance in the title role is a marathon of strength and subtlety, nowhere more so than in the monologue at the end when delivering Gandhi's prayer, while a figure representing Martin Luther King on a high podium suggests the peace movement to come, and reminds us that the two preachers of non-violence shared in common a violent end.  Outstanding, too, is soprano Elena Xanthoudakis's Miss Schlesen, Gandhi's secretary.  Her silvery bell-like voice soars radiantly over the vocal ensembles.   Anne Mason as Mrs Alexander, the police superintendent's wife who defends Gandhi from a mob of baying Boers with her umbrella, is blazingly ferocious.
Glass's music weaves a haunting spell, as phrases recur like a contemplative mantra, again and again.  But it is never monotonous because of the dexterous changes of pitch and pace that heighten the drama.  Cast and orchestra under Stuart Stratford have the measure now of this remarkable opera.   Definitely worth a repeat visit.