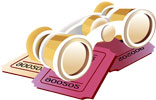 Sunday Express – 7 February 2010
Mozart's Cosi Fan Tutte****
Royal Opera House, London WC2
Mozart composed his loveliest music for one of the most deeply cynical operas ever written.  Its theme is summed up by the title – "That's what all women do."  The story of two sisters fooled by their disguised fiancés into falling for each other's lover was one that echoed the librettist Lorenzo Da Ponte's own eventful life.  As a young man he himself had been in love with two sisters – until their mother put an end to their confusion by showing him the door.
The seventh revival of Jonathan Miller's 1995 production, ably conducted by Julia Jones, is set in the present day. The young men shed their executive suits to re-appear as Hell's Angel rock musicians wearing tattoos, long hair and shades.   Despina the maid brings takeaway cappuccino for the sisters' breakfast, and Don Alfonso has a chiming mobile phone.
With Sally Matthews as a cool blonde Fiordiligi and Georgian mezzo Nino Surguladze as a sultry, dark-maned Dorabella, the appearance of the two sisters complements their personalities.  Casting surreptitious glances at the mirror for make-up checks, they come over as a delightful pair of airheads.   The forceful wooing by Ferrando (Charles Castronovo) and Guglielmo (Troy Cook), urged on by the old cynic Don Alfonso (William Shimell) looks like a case of sexual harassment.
Playing on the girls' pity by pretending to take poison for being rejected has results, though, and Fiordiligi, after a strong resistance, falls heavily for Ferrando.  Matthews, a rising star, is in superb voice, and the aria "Per pieta", expressing her emotional turmoil, is a stunning display of coloratura and dramatic passion.
Miller brings out the humour of Cosi – it was, after all, described originally as "opera buffa" – and there are moments of high comedy, as when Helene Schneiderman's Despina, disguised as a doctor, appears in green surgical scrubs and facemask.  But he poses a serious question – what happens to relationships when trust is broken?
In some productions, after reaching the brink of marriage with the imposters, the sisters return to their original partners.  Here, it seems the shock is too great, the abuse of trust too profound.  Despina, initially a willing accomplice, realises that she too has been used.   All leave the stage to Don Alfonso who, having turned four young people's happiness to ashes, contemptuously throws away the white carnation in his buttonhole.  The message is clear – play games with the heart at your peril.