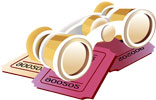 Janacek's Jenufa *****
English National Opera
Coliseum, London WC2
Sunday Express 22 October 2006
Anyone who still thinks opera is elitist should make tracks to the Coliseum for a raw slice of life.  Janacek's bleak tale centring on infanticide is as compelling today as when it was first written, and English National Opera's co-production with Houston Grand Opera can hardly be faulted.
Director David Alden has updated the story to Eastern bloc Czechoslovakia in the latter part of the 20th century.  The curtain rises to a grim expanse of mill compound with Jenufa's grandmother in a guard's hut, working on the accounts.  Amanda Roocroft's Jenufa, slim and vulnerable, is waiting in acute anxiety to hear whether her fiancé Steva has to enlist in the army.  She realises she is pregnant and dishonour looms if they don't get married.
When Steva rejects Jenufa after his jealous brother Laca cuts her face with a knife, Jenufa's formidable stepmother, the Kostelnicka, takes charge and hides her away from prurient eyes until after the baby's birth.  Ostensibly thinking of Jenufa's future marriage prospects, but in reality of her own standing as a pillar of morality, she decides the baby must die.
The second and third acts take place in a bare, claustrophobic room of the Kostelnicka's house.  When the baby's body is discovered, at the moment Jenufa is about to be married to Laca, the flimsy walls of the house split open as a vengeful crowd pour in looking for the culprit.   After the drama of the Kostelnicka's arrest, the opera ends on a note of reconciliation, when Jenufa resolves to start a new life with Laca.  It's poignant that Janacek was writing after his daughter Olga's tragic affair with an unsuitable man. For Olga there was no happy ending – she died from an illness as he completed the opera.
Among the universally strong cast, Amanda Roocroft is outstanding as Jenufa, conveying the brightness and intelligence that are clouded by her emotional plight.  Heldentenor Stuart Skelton has a ringing heroic tone together with a touching awkwardness as the unloved Laca.  Catherine Malfitano is an intense, full-voiced Kostelnicka, and Susan Gorton a delightfully dotty grandmother.   Clear and well-paced playing from the orchestra, under conductor Mikhail Agrest.
This is the sort of production with which ENO should be attracting the younger audiences it needs, rather than trying to pander to "yoof" culture, as in the dismal Gaddafi musical that opened the season.