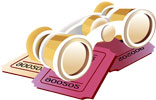 Opera reviews
Shostakovich's Lady Macbeth of Mtsensk *****
Royal Opera House, London WC2
Verdi's La Traviata ****
English National Opera
The Coliseum, London WC2
Sunday Express
Despite the gory happenings on stage – from dead rats to severed heads in plastic bags – Richard Jones's award-winning production of Lady Macbeth of Mtsensk is life enhancing. It's Covent Garden at its best, with singers, orchestra, director and composer creating an exhilarating evening.    Of the several versions I've seen during the year of Shostakovich's centenary, this is the one that strikes every chord.
Some of the original cast members from the first production two years back have returned, notably John Tomlinson as Boris Ismailov, Katerina's domineering lecher of a father-in-law, and Christopher Ventris as Sergey, the opportunistic lover.  There's a new Katerina Ismailova with Dutch soprano Eva-Maria Westbroek making her Covent Garden debut.   An intense, simmering performance and a decibel-raising voice brought her a deserved storm of applause at the end.
Set in Soviet Russia towards the end of Stalin's regime, Jones's production brilliantly evokes the meanness of communist life.  The Ismailovs may be rich merchants but they live in drab squalor with a flickering black and white television as the one luxury.  All the action takes place within four walls, creating a claustrophobic atmosphere.
Once Katerina has dispatched her hated father-in-law with rat poison and set up with her lover, she splurges on interior design.  Gaudy patterned wallpaper, a Hollywood-style double bed, a bigger and better TV set, and dyed blonde hair illustrate her nouveau-riche dream of the happy life, until the return of her husband sparks off the second, gruesome murder. From there, events move through comedy to tragic denouement and Katerina pays the price for her illicit passion in the final, compelling act on the road to Siberia.
The Royal Opera's musical director, Antonio Pappano has caught the subtle changes of mood in Shostokovich's music, bringing out the full range of emotion from tender love to murderous rage.    This is an evening not to be missed.
The first sign that Violetta's Parisian demi-monde in La Traviata has been transported to 19th century Dublin comes when the guests at her party raise to their lips, not glasses of champagne, but bottles of stout.   Director Connall Morrison is an associate artist of Dublin's Abbey Theatre, which accounts for the Irish flavour in this essentially French story.  The references to sectarianism don't add anything – Father Germont rejected Violetta as a match for his son on the grounds that she was a prostitute, not a protestant, as the new translation would have us believe – but Emma Bell, in her first Verdi role as Violetta, is superb. She acts with passion and her voice is a dream, ranging from thrilling coloratura to heart-touching mezza voce as she lies dying.    James Westman is a dark-toned oppressive Father Germont.