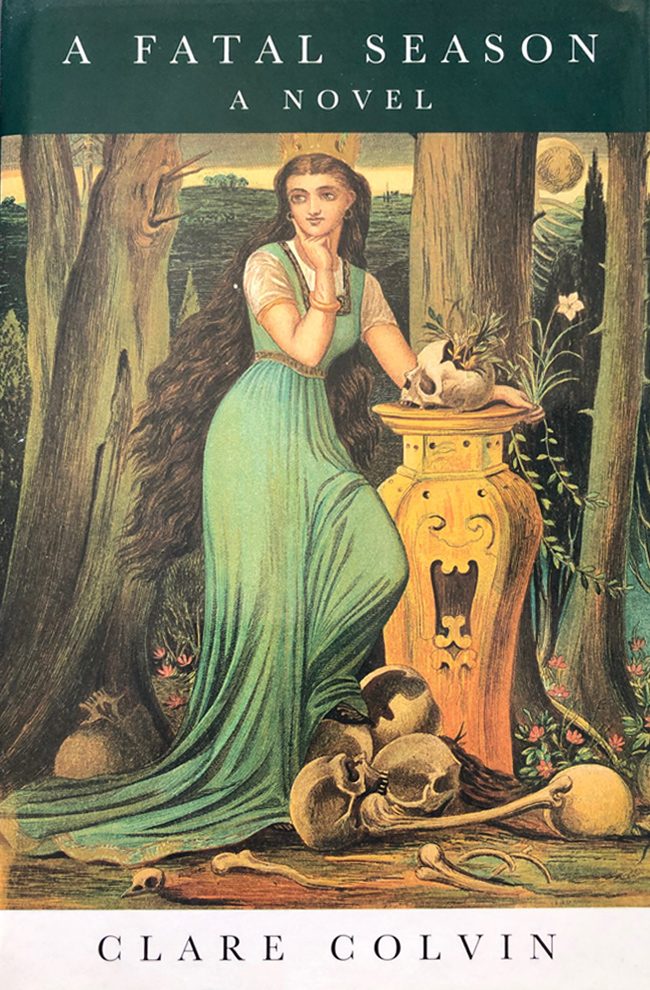 Past memories are interwoven with the present in A Fatal Season.  Here's an extract from Chapter Two with Lily in reflective mood.
Outside the house off Kensington Church Street, a grey chauffeur-driven Ford waits at six o'clock in the morning.  That's when Lily's filming.  There's a maroon car which calls at six in the evening when Lily is playing in the theatre.   There are other cars which call at various times of the day, hired by advertising companies to take Lily to voiceovers.   And occasionally, parked as close as residents' parking can get it, there's the white hatchback with sun-roof, Lily's own car which takes her to the gym, or to see friends.  It's not often used, for in London Lily prefers to stay at home.  Friends come to see her, they sit in her downstairs room overlooking the garden, and towards lunchtime she lifts the phone and calls The Galloping Gourmet for a takeaway meal.
On this warm September day she was sitting in her garden, out of earshot of the voices on her answering machine, but with her snap-shut mobile on the table beside her.  Stretched out on the cushioned lounger, Lily turned her face towards the sun.  A brochure from Provencal Homes was lying on her lap.  She had been thinking of buying a house near the Mediterranean, but couldn't decide exactly where.  The thought of living somewhere, no matter how sunny, no matter how sparkling the sea view from the balcony, no matter how scented the air with pine or sage or grilled langoustines, no matter how seductive the sounds of the bazouki, the flamenco, the old Francoise Hardy songs, there was still a chill in your heart at being on your own.   These thoughts occurred to Lily now that she was between lovers.  It sounded so badly organised . . . between lovers.   There was a time when they overlapped, a warm enveloping blanket of love and attention.
She turned the pages of Provencal Homes.  Near Orange, a villa overlooking a field of lavender.  Ah, she could smell it from here.  On the next page – a small manoir in the hills outside Avignon.  A stone fountain in front of balustraded steps, dark spears of cypresses against the sky.  Acres of land and a vineyard.  Lovely, she said to the cat, which looked up at her with an unblinking Burmese gaze.   Near Avignon.  Where the Festival is . . .
It was the second time that day she had thought of Lambert Rees.   The first had been when noticing his name in the list of Today's Birthdays in The Times.   She supposed it was still there, years after it had stopped appearing anywhere else, because no one had made a decision to strike it off.
How long ago was it now?  Sixteen years?  How old had she been?  Twenty-three?   I've made an appointment for you to see Lambert Rees, her agent had said – still the same agent as today, Michael Brand, who had picked her out after her second year at drama school and had persevered, despite an initial reluctance by directors to employ her.
"She doesn't quite fit," they would say.
"That's because she's a star."
"Give over, Michael, not at her age, not straight from LAMDA."
By the time Lambert came to know of her she had been named Most Promising Newcomer in a theatre magazine, and had appeared in a television play by a controversial writer.  The Rees company at the Royal Albert Theatre had put on a succession of new plays which had won critical acclaim but lost them an audience.   Lambert could see the danger signs.  An injection of classics into the repertoire, but with subversive undertones, would bring back the middle-ground theatre goers as well as retain the Royal Albert's faithful followers, the RAT pack.
Lily had climbed the circular stairs, aware of a nervous shortness of breath, to Lambert's office at the top of the building.  The door was open and she could see him at the desk, his back to the window.   In the contrast between the backcloth of pale sky and the unlit room his head resembled a silhouette.  As he stood up, the light from the window revealed the face of a man around forty, dark hair skimming over the white open-necked shirt collar, and eyes of depth and darkness.  As he moved from the desk towards her, he limped slightly.
Byronic, thought Lily, but later he told her that it had only been an acute attack of pins and needles.
In the instant of meeting, she could scent something that she defined as an inner power, though later as a talent for manipulation.  And then he did something that took what remained of her breath away.   He handed her a copy of Chekhov's Seagull and said, "Would you read Nina's speech to me?"
She stared at him, affronted.  Michael had said only a meeting, not an audition.
"I'm still recovering from all those stairs.  If you had wanted me to audition, you should have let me know."
"It's not an audition – I'm simply interested in hearing you read, in this room.   Now."
"I'm not reading that speech.  It shows her as a bad actress."
"If you're not prepared to play a bad actor to me, how can you do it for an audience of five hundred?"
In the end they compromised, and Lily read part of a later speech.  "Remember you shot a seagull?  A man happened to come along, saw it and killed it, just to pass the time.  A plot for a short story."
It was curious how the pattern their relationship had followed was mirrored in the plays.  During the rehearsals of The Seagull, she had felt in thrall to him.  The older man with the capacity to damage a life.   And then there was The Way of the World.  By now she had ended her relationship with an out-of-work actor who had become jealous of her success, which had brought more than a touch of agony to her involvement in the fate of Nina.  She relaxed into Millamant – the beloved with thousands of admirers.  She swayed towards Lambert as they discussed the script, her hair touching his hand on the page.  "Be a Lamb, lace me up…." And his hands had encircled her 18th century waist, he had leaned forward and kissed the back of her neck.  But there had always been that approach and retreat, like a courtly quadrille.   An unseen one had a prior, and official, claim to him.   And Millamant did not want to dwindle into wife.
Then there had been Cressida.
The stage at Avignon is an ancient bowl of stone set in the scented hills.  In the fading light, the fires onstage burn their image on the retina.   It is a scene ancient as man, soldiers gathered around the fires – fires which foreshadow the sack of Troy.   A line of flame snakes across the stage towards Cressida – the fire of passion that destroys.   Her flimsy white dress flutters in a breeze towards the darting tongue of flame.  The audience tense collectively, as they anticipate Cressida as a burning torch.
Lily is possessed by Cressida.   Cressida's voice, like the oracle, speaks through her.  "I have lov'd you night and day for many weary months . . . I was won, my lord, with the first glance. . ."
She is on fire with love, the audience are riveted by the luminous being before them.   She is on fire, possessed, but she plays her audience well.   The ovation at the end is enthusiastic and prolonged.  The actors take their bows, Cressida hand in hand with Troilus and Pandarus, and then with Lambert, who has been called on to stage.   The applause is ever louder.  Lily looks sideways at him.   He clasps her hand more firmly.
Lily and Lambert facing each other across the candle flame in the courtyard restaurant.   She watches his eyes watching her, is aware of his hand moving towards hers, feels the electricity coursing through skin and veins, as they touch, her hand raised to his face, the pressure of his lips against her palm.  The shock of desire in the depths of her.  Their eyes looking into each other.
"Shall we go?" he said.
Walking back through the night air to the sound of cicadas, arms around each other, his warmth against her side.  The keys, both taken from the reception desk, only one used.   Her room, the best in the hotel with its own balcony.   Undressing each other and subsiding on to the bed.
Provencal Homes slides from her lap and falls to the ground.  The cat jumps in annoyance.   Lily's eyes look outward again, at the garden and the beech tree that is undermining the garden wall.    So much love in them both, how strange that it should transmute into such different, such ugly emotion.   Yet she had always known that part of Lambert's talent lay in destruction, of other people, of himself.   She sees the cat's tail twitch as he catches sight of a sparrow hopping innocently across the lawn.
"Don't you dare, Milo!" she says.  He stares up at her as if to say, What's to stop me?   She knows that in a day or two there will be another bedraggled bundle of feathers on the terrace.
Part of his fun in killing them is watching them assume they are safe.
click here to read the reviews
buy the book from amazon.com
buy the book from amazon.co.uk